In 2011, I read 28 books.
Last year
it was 32. I find that interesting because I felt like I hardly read any books at all this year, but really it was only four fewer than in 2010. Below is Part 1 of the highlights and lowlights of what I read as well as a summary of the rest. Part 2 is
here
.
Favorite Non-Fiction: Save the Cat! and Save the Cat! Goes to the Movies by Blake Snyder.
If you read the
Save the Cat!
screenwriting books, you'll never look at movies - or novels - the same way again. The late Blake Snyder shows how well-plotted fiction always hits the same fifteen beats, or points, in the story. Understanding these beats can help a writer to outline a story in a full and satisfying way.
Favorite short stories: by Kristine Kathryn Rusch.
I had never heard of the prolific Kristine Kathryn Rusch before Rob Lopresti mentioned one of her short stories in the now sadly defunct
Criminal Brief blog
. The story (
The Case of the Vanishing Boy
) was about two geeks solving a mystery at a science fiction convention - how could I resist? This lead to me finding a number of Kristine's other shorts that I enjoyed as well as subscribing to her
"business of writing" blog
on my Kindle.
Best Use of Geology: Remarkable Creatures by Tracy Chevalier.
Remarkable Creatures
was an interesting "kinda-sorta-based-on-a-true-story" novel about two women who were involved in the discovery of dinosaur fossils in England in the 19th century. The field of geology is sorely lacking in famous female faces (I majored in it and I couldn't name one) so it was good to learn about Mary Anning and Elizabeth Philpot.
Runner up: Jurassic Park by Michael Crichton.
Need I say more?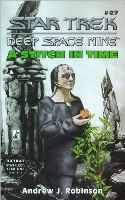 Worst Kindle Formatting: A Stitch in Time by Andrew J. Robinson.
Thanks to Netflix, I've been rewatching Star Trek: Deep Space Nine for the first time since it aired.
A Stitch in Time
is about one of the minor characters, Garak, and was written by the actor who played him. I love Garak and was psyched to find out there was a whole book dedicated to him. I knew it would be tough to find a paperback copy of the ten-year-old book, so I bought the Kindle version even though many of the reviews said the formatting was horrible.
Well, they were right. I managed to read the whole thing and, though the story itself was good, the errors ruined it. I can handle a few scanning errors (the funniest of which was "feces" instead of "faces") but there were way too many here (I stopped counting at fifty). Worse were the missing line breaks. Scenes and dialog were smooshed together which made it very difficult to follow the story. Considering that I paid full price for this and it was published by a major company (Simon and Schuster), I expected better. All it would've taken was one person to sit down and read through it and they could've caught 95% of the errors. I can't see any explanation for not doing that except laziness and greed.
Open Minds by Susan Kaye Quinn

A dystopian Young Adult novel about a future society where everyone can read minds. Everyone except the main character, of course (she has to be different, right?). Good, though it's easy to get annoyed with the MC when she falls for the wrong guy at the beginning.
The Corset Diaries by Katie MacAlister

I was at a used book store and wanted something light and fluffy. This was it. It's a romance set during the filming of one of those shows where people dress up, live in a manor house and pretend like they're living in the Victorian era. This is really the first romance novel I've read, ever. I've read some chick lit but there is nowhere near as much sex in those books as there was in this one. I guess now I know the difference between the two genres!
Dark Souls by Paula Morris

A paranormal Young Adult novel about a girl who can see ghosts. It's set in York, England which is what drew me to it. You can read my full review here.
Beautiful Demons and Inner Demons by Sarra Cannon

More paranormal Young Adult, this time about an orphaned girl who, you guessed it, has special powers. From the title you can probably also surmise that they are demon-related. Fun but short (the page count estimate for the first one is 132 pages). I got them for $0.99 each but the next books in the series were $2.99. I guess I didn't like them enough to keep reading at that price.
Full Dark, No Stars by Stephen King

Meh. I didn't really like any of the stories in this collection. In fact, I think I pretty much hated the first one (where the farmer murders his wife). Oh well, I think Uncle Stevie will do just fine without my 5 star review (seeing as he's already got my money!).
Open: An Autobiography by Andre Agassi

This was a book club selection and was not what I expected, in a good way. The only thing about Andre that I knew before reading this was that he played tennis and was bald. There's a lot more to him than that.
Agent to the Stars by John Scalzi

A Hollywood agent becomes the spokesman for a group of aliens that want to make contact with Earth. This is the sort of book I long to write - fun, energetic science fiction.